Project activities – events and cooperation
3D virtual gallery tours
Due to the rapidly changing pandemic measures and the frequent closure of cultural institutions, we are also preparing virtual tours for exhibitions, which will allow spectators a quality visit to the gallery from the comfort of their home.
---
Freedom of Speech Memorial Press Conference (December 20, 2021)
The Trnava self – governing region, in cooperation with surviving families and the general professional public, announced an art – architectural competition. Its goal is to create a place of reverence in the place of the tragedy of Ján Kuciak and Martina Kušnírová. The purpose of building a monument in the village of Veľká Mača is to commemorate, preserve and encourage people to discuss with due respect.
A press conference with the participation of TTSK representatives and the media took place on December 20, 2021 in Umelka Gallery.

More information about the competition on the web https://slobodaslova.sk/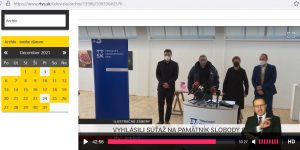 ---
Educational trail "In the footsteps of November 89" (November 11-18, 2021)
In the week from 11th to 18th November, the Slovak Art Union In 2021, it joined the activities of the ČSOB Foundation, which prepared the historic educational trail "In the Footsteps of November 89", one stop of which is, of course, near Umelka.
In the appendix you will find a map of 5 places where info boards with QR codes were placed, which were directed to educational videos.
There is a website for project November 89
All videos can be seen on youtube channel Po stopách Novembra 89
You can see the map with places on special Google map
---
Show your step 8 (October 5, 2021)
The dance project "Show Your Step", organized by the Tanečná Scéna platform, presents talented Slovak dancers from various dance styles and industries and accompanies their movements and dance self-expression in interesting artistic places.
The Umelka Gallery was part of the 8th part, where during the exhibition of the medal association "Slovak Medal 2016-2020" the breaking and concept Flow-to-go dancer Ondrej "El Prcinho" Hadidom demonstrated.
You can read more here
---
Video for the exhibition of Marta Chabadová – Penetrations (August 10-29, 2021)
---